Community Health Workers in WV Learn New Tech Skills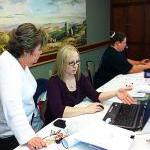 In December at the Tamarack Conference Center in Beckley, three community health workers from southern West Virginia learned how to use a free online project management tool called Trello. The instructor, Sheila Blake, a consultant from Beckley, provided everyone instructions on such things as how to use and create boards to manage tasks, post comments, and upload and attach work reports. All of these new skills help support the work of these community health workers (CHWs) as they mobilize their rural community members to engage in healthy behaviors among many other health promotion activities.
CHW from McDowell County, Annetta Tiller, found the training to be very useful. For the past 13 years, she has worked with Big Creek People in Action in various roles and most recently as the Healthy Lifestyles and Special Projects Coordinator. "After unsuccessfully trying for weeks to use Trello," she says, "I had almost given up. Instead of using this tool, I just used my email. Thanks to the Trello workshop, I finally understand how to upload and attach my weekly reports. I'm not an expert yet, but I can now complete my work and post it the right way!"
Jamie Cumbridge from Boone County and Jennifer Farmer from Mercer County, two other CHWs, also attended the event. Using an I-pad in addition to her computer, Jamie learned how to use Trello on multiple platforms. Jamie will use Trello to coordinate local workplans associated with a project that uses martial arts to encourage physical activity and reduce obesity among youth. She coordinates this initiative with her husband Richard and their martial arts association, the WV Warrior Virtue Society. In addition, Jame leads autism self-help groups.
With an MPH from West Virginia University, Jennifer works as Outreach and Evaluation Coordinator with Community Connections, a non-profit that coordinates the Family Resource Network of Mercer County and specializes in combating substance abuse. For seven years, Jennifer worked at UNC-Chapel Hill as a Coordinator of their Institutional Review Board with a focus on research studies through the UNC School of Public Health and the School of Nursing. She recently returned to her hometown in Princeton and looks forward to helping make a difference in WV.
Future Generations coordinated the Trello training as part of a U.S. Department of Health and Human Services, Health Resources and Services Administration (HRSA) three-year program. These CHWs work as non-clinic based health workers promoting better health in their rural communities. To achieve this, CHWs lead health education workshops, offer assistance with enrolling in public programs, design and implement community projects and activities, and educate the public about the importance of community health.
For more information, visit futurewv.org or contact the Program Manager, Nicky Bassford, at nbassford@future.org.