Community Pulls Together in Wake of Superstorm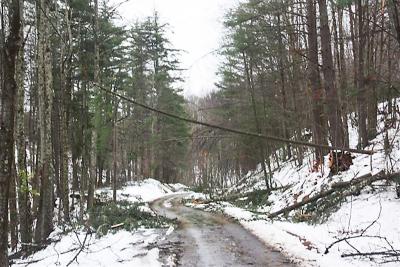 Photo by Robert Lindgren
Central Appalachia took a pounding on October 30 when a winter storm front combined with Hurricane Sandy created a superstorm, dumping tons of snow in the region.

The resulting devastation left thousands without power--downed trees and power lines littering the landscape.

Rock Cave, of Upshur County, WV, was one such community marked with this level of devastation.

The electricity in the Rock Cave area cut out around 5:00 a.m. on October 30, as heavy snow downed trees and power lines.

In response, the Banks District Volunteer Fire Department, which serves the Rock Cave area, snapped into action. The fire department remained open 24-hours a day during the emergency, and was available to serve the community as a warming station, for wellness checks, and to provide food, water and blankets.

The fire department used electricity from a built-in generator, but possessed three portable generators, which they loaned out to help the community – one of which was given to a family who had a member in need of oxygen. The other two were used to keep phone service, and fire and rescue radio systems online.

Though Internet service was intermittent during this period, the free public computer center housed in the fire department was available to the public. Patrons could communicate with their families outside the devastated areas.

The electricity came back to some on Nov 6, but much of the outlying areas remained without electricity for another week. However, the fully-operational computer center, allowed those without power to come pay bills, research news and information on the storm's progress, and communicate with loved ones.

The Banks District station is a great example of how a volunteer fire department can serve as a small community's central hub, and how the free computer centers can tie that community to the outside world.