Pendleton Youth Get Creative at Technology Camp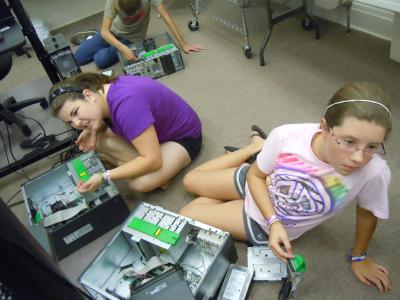 In August, the Circleville and South Fork Fire Departments hosted one-week technology camps for area youth. Sixteen youth in third-fifth grades joined local computer mentors and staff of the Future Generations Graduate School to increase their computer skills and get creative with technology.
Activities gave youth opportunities to use digital photo and video cameras and learn new software to turn their photos into creative projects. Youth also got more familiar with computers by taking a computer apart and rebuilding it.
Activities began with a photo scavenger hunt. Later, the kids teamed up in small groups to record a video and write their own narrative with the theme, "what I love about West Virginia." Finally, they used their photos and descriptions of West Virginia to make a poster, which they printed out and took home.
Several sessions focused on digital drawing and photo editing software known as Inkscape and GIMP. They discovered how to take pieces from one photo and put them in another photo as well as other photo editing techniques. At the end of the day, one boy expressed his desire to "do this when he grows up."
The program Scratch allowed youth to explore computer programming and make video games. They created a script to make a character on their screen move. Later, volunteers took action photos of the kids and helped them to crop themselves out of the photos and integrate the photos into the Scratch program. The kids loved animating themselves.
The Future Generations staff demonstrated the components of a computer and then let the children take apart a computer and assemble it together again. Although this activity proved to be the most challenging, many of the kids on the last day agreed that this was their favorite part. The best news was that the kids keep the computers they had built. The computers included the free GIMP and Inkscape programs that had been used earlier during the camp.
The camps were so successful in providing youth with new information about technology that parents requested an "adult technology camp."
Public computer centers are currently open at Circleville, South Fork, and Upper Tract. For schedules and more information, contact your local fire department or visit, www.futurewv.org.