Huge Crowd Attends Bartow-Frank-Durbin Event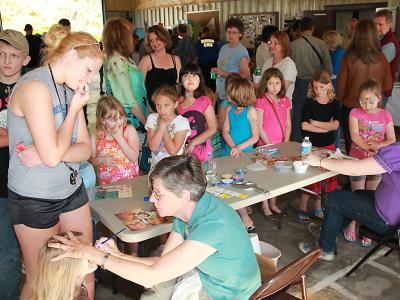 Nearly 200 residents of the three closely-linked communities of Bartow, Frank, and Durbin came out to support their fire department in a fundraising event on April 29.

The event, which raised over $1,000 for the Bartow-Frank-Durbin Fire Department, featured great food and door prizes, along with a cake auction and a 50/50 drawing.

Musician Mike Morningstar provided the music for the day, with his own brand of homespun folk music.

Attendees of the fundraiser also visited the computer center in the fire department, which is located in Durbin, and learned about the free classes that they could take to advance their knowledge of using computers and the Internet.

Kids at the event had their photos taken with Smokey the Bear in front of the fire trucks, had their faces painted, and played games.

The door prizes included an iPad, Kindle Fire, iPod Touch, a digital camera, and two refurbished laptops provided by Future Generations.