Frontier Partners with FutureWV on Benefits of Broadband Campaign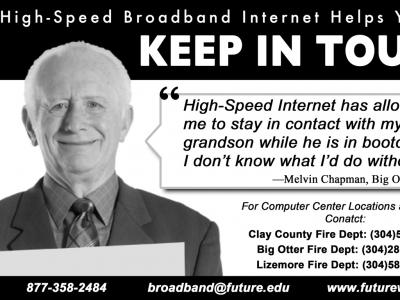 The Benefits of Broadband campaign is getting a fresh look courtesy of Frontier Communications.

Started in June 2011, the Benefits of Broadband advertising campaign has appeared monthly in newspapers throughout West Virginia to inform communities on the benefits of using their local public computer centers.

Almost a year later, Future Generations has partnered with Frontier Communications, West Virginia's main telecommunications company, to enhance the success program.

In addition to being a larger size, the ad series will feature computer center mentors and patrons giving a brief story of how high-speed Internet has improved their lives.

The new campaign is slated to begin in mid-April and run until early 2013.