Flatwoods Technology Camp Provides Unique Experience for Area Youth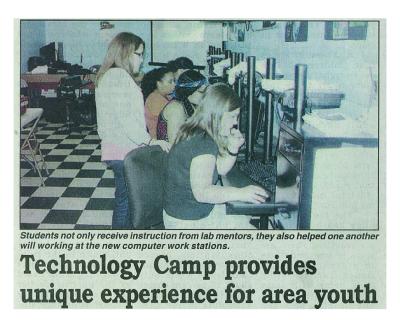 The Flatwoods Volunteer Fire Department and Future Generations combined forces to offer any 9-15 year old Braxton County resident an opportunity to attend Technology Camp. The camp was funded by the surplus from the American Patriot Act. The weeklong event ran from 2:00 p.m. to 6:00 p.m. August 8th through the 12th at the Flatwoods Fire Department.
Participants were provided with equipment and supplies needed to build their own computer, either HP or Dell. Paul Beatty, Jean Weigh, and Kim Davis served as lab mentors and provided instruction to the youth. Also on hand to help was Traci Mallow a representative from Future Generations. The campers were taught the fundamentals of several different computer programs, basic computer skills, how to navigate search engines, graphic design, and photo editing.
"It was a great experience for not only the kids, but the lab mentors as well. The kids learned new computer skills and made new friends," said Davis. During the week, mentors noticed that some of the kids really enjoyed the photo editing tutorials. They allowed the youth to take home cameras and capture images for a t-shirt they created. "It was fun. I learned that I liked to take pictures and edit them," said Courtney Davis, a sophomore at Braxton County High School. Before the camp she explained that she usually just used her I phone to take pictures, but was impressed with the difference in quality a digital camera provided.
By week's end, each student had a fully functioning computer they had built themselves under the guidance of trained professionals. The youth also received a flat screen monitor, keyboard, mouse, an 8gb flash drive, a tee-shirt, and a wealth of knowledge acquired throughout week. The group hopes to be able to provide the camp again, but the program which relies on government funding will have to wait to see what the future brings.
by Erica Whitney
Braxton Citizens' News