Computer Center Mentors Prepare for Summer Youth Tech Camps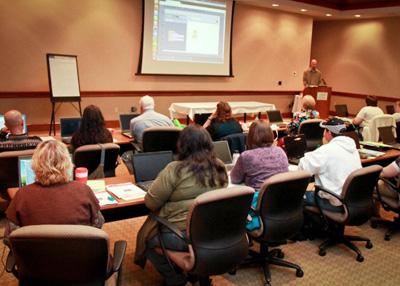 April 20: Volunteer Fire Department and EMS Computer Center mentors from around the state convened at Stonewall Jackson Resort in Ronoake, W.Va. for a two-day technology training.

The training prepared mentors on how to teach elements of technology to local youth at their fire departments this summer. The tech camps, scheduled for Summer 2012, will be geared towards kids 9-13 years old and will focus on technology skills like computer programming, photography, graphic design, and computer repair.
The training also focused on using free software and programs to teach these technology skills: GIMP, for photo manipulation; Scratch, for basic video game programming; Inkscape, for basic graphic designing.

The training also demonstrations in photography from professional photographer, David Cockerham, and computer assembly by Future Generations employee, Lee Adamson.
By the end of the training, 15 mentors scheduled youth technology camps for their computer centers. When the computer centers host their camps in the summer, Future Generations WV will provide 10 point-and-shoot cameras for the kids to experiment with. Future Generations WV will also ship amongst the technology camps computers that can be disassembled during the camps.