40 Local Computer Mentors Trained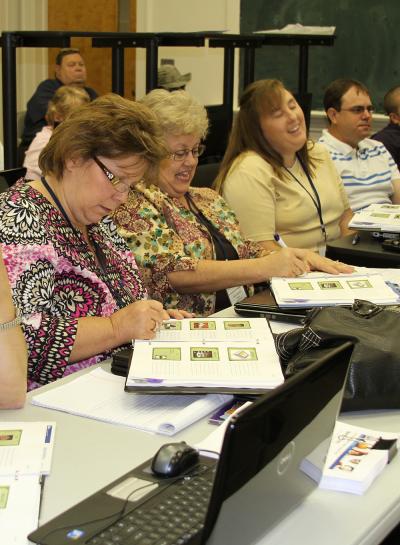 Franklin, WV - In August 2010, the Future Generations Graduate School oriented and trained 40 people from 20 communities across West Virginia to be computer mentors. These individuals, each selected by their local fire departments and communities, will help manage new public computer labs. They will teach basic computer skills classes and facilitate numerous other learning opportunities.
Mentors participated in an intensive two-day training program that introduced them to each other, oriented them to the roles and responsibilities of a computer mentor, and provided a detailed overview of curricula and course offerings, with a special emphasis on how to teach basic computer skills. A four-hour session on Online Mapping, presented by the Monongahela National Forest received especially high reviews.
George Hill, the computer mentor of Cora, West Virginia, commented: "I have been to many fire department trainings in my time, but never before have I seen a group of people from fire departments across West Virginia get along with each other so well. We really connected."
Other computer mentors appreciated the mix of presentation topics and the wealth of knowledge that was easily shared.
Five educational partners participated in mentor training and introduced courses that they will be offering through these computer labs. Edna Green and Wendy Lewis from the West Virginia Partnership for African American Churches, based in Charleston, presented courses on chronic disease self-management and substance abuse prevention. Dr. Henry Taylor, former West Virginia Health Commissioner, spoke on the topic of disaster resilience on behalf of Johns Hopkins Bayview Medical Center. Beverly Baccala from RESA Region 8 presented available courses in Adult Basic Education, and Amy Crites from Eastern West Virginia Community and Technical College introduced a course on entrepreneurship.
David Rogers, Executive Director of Mission WV, along with two of his colleagues Matt Delong and Larry Harshberger, presented the cornerstone program, digital literacy. MissionWV used hands-on techniques and presentations to guide mentors through the digital literacy curriculum, which is a free course offered by Microsoft. Mentors will be actively teaching basic digital literacy and online mapping to their community members. In addition, they will facilitate other more intermediate/advanced courses to be offered by participating educational partners.
Details about upcoming classes and activities in each site are available at futurewv.org; go to the "Computer Center" link. Each Fire Department's computer lab has a dedicated page on this website that will be updated regularly by local computer mentors.
Click <here> to visit the online photo gallery of the computer mentor training sessions.